APTIQ Global is a cross – country ONE – STOP SHOP for professional services, offering excellence to Clients that want a complete services package throughout their Company's Full Life – Cycle. 
APTIQ Global is offering services in Germany, Austria, Switzerland, Italy, Spain, Romania, The Czech Republic and Slovakia and is expending rapidly its network.
We are organised in several departments that work together in a multi-disciplinary way in order to assure the best support as a Trusted Advisor to our Clients and to assure that their business goals are achieved.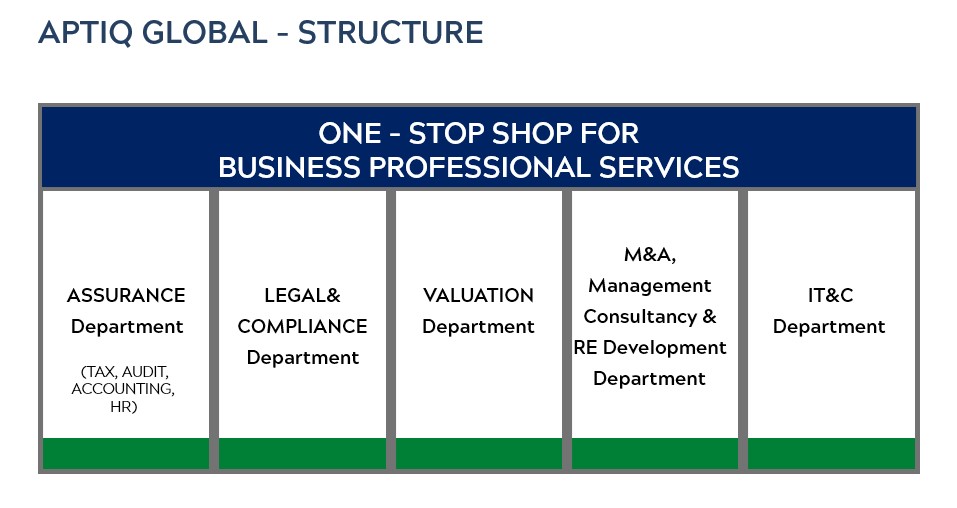 APTIQ Global represents leading consulting and professional services firms worldwide. Its membership is diverse: large and small firms, traditional management consultants as well as providers of professional services, generalists and specialists, single-office firms along with multinational organizations.
Being a part of APTIQ Global offers many benefits, from strengthening your reputation as a key player in the industry, to giving you a voice, providing access to valuable industry data and research, building your network and developing your team.
Our organisation is enriched by legal and tax consulting firms as well as consulting specialists from other future-oriented areas such as IT, healthcare, real estate, wealth & asset management, renewable energy and much more. The organisation also promotes a better understanding of the profession among the business community, government, academia and the public.
We work closely with our member firms to define our strategy.
Membership of APTIQ Global enables your firm to:
Demonstrate your firm's credibility
Strengthen your brand – through APTIQ Global marketing and use of the APTIQ Global logo
Showcase your expertise – through winning awards and contributing to reports
Access valuable industry data and research
Build your network – through insight, training and networking events
Shape the future of the industry – through getting involved in our work and lobbying
Develop your team – through training and events
Access advice – through the APTIQ Global international and multi-disciplinary team
We welcome both large and small firms to join our membership body from across the diverse consulting and professional services sector. APTIQ Global and its members are committed to the principles of Consulting and Professional Services Excellence and this is an important part of the application process.
Our company's strategy is to expand our business by helping our Clients to grow their businesses. Our strategic advantages versus our competitionis a more entrepreneurial view and an Agile understanding of how technology and sustainable resources is changing the business models and changing the economy. 
The APTIQ Global organisation requires that an applicant firm must:
have been in practice and provided consulting services for more than five years;
employ skilled consultants with relevant experience;
demonstrate that they are committed to observing the Principles of Consulting and Professional Services Excellence and provide evidence of good practice in Ethical Behavior, Client Service and Value, Professional Development, and Commitment to Diversity and Inclusion
provide evidence that they are financially solvent and, in a position, to meet their financial liabilities;
provide three client case studies with accompanying client referees who are able to testify to the good reputation and quality of the applicant.

Member of AHK Czech
Republic


Designed & developed by aptiqtech.com
©2023, APTIQ Global